Learning to Code? It's Like Falling in Love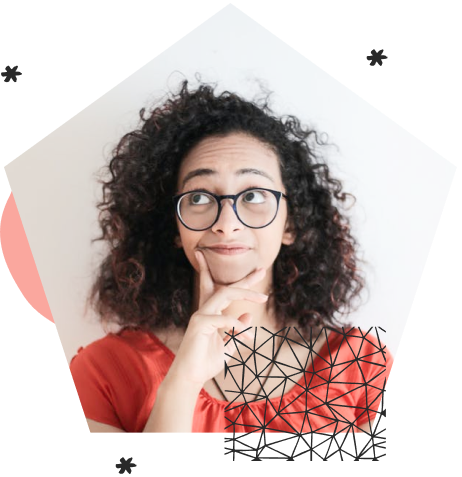 February may be all about paper valentines, candy hearts, and eating as much chocolate as you can, but here at Skillcrush we like to use the season of love to focus on something a little different: learning to code.
AND we want to make the season even sweeter for you with a special flash sale treat for you. Keep reading to find out what it is!
In the meantime, we're talking about learning to code even on Valentine's Day because, in our experience, learning how to code is akin to falling in love. Maybe not in the head-over-heels, can't-get-you-out-of-my-head kind of love, but love nonetheless. Just hear me out!
Learning tech skills is a BIG act of self-love—you're enhancing your financial future, creative expression, and career happiness. Wanting to make more money or have a flexible job—and then going out and gaining the skills necessary to create those things in your life—actually makes you a total boss. And (spoiler alert!) there's nothing we love more at Skillcrush than hearing coding love stories from our students, coworkers, and peers!
We asked techies from the Skillcrush community to tell us what made them fall in love with learning to code. And we hope their funny and inspirational answers will put you in the mood for Valentine's Day!
Learning to Code Made My Heart Skip a Beat
"I learned to love code when I stopped thinking about it as a complex system of pulleys and gears—and started thinking about it as a beautiful written language of poetry. _What code, through yonder window breaks? It is I, and semicolons are my sun._" —Erin Denton, Skillcrush Design Instructor
"I love how on the outside it looks like something I would never be interested in doing or be good at because I am more creatively inclined, but I actually find it SO satisfying. It is creative and fun in ways that I never really imagined it would be." —Lesley Merola Moya, Skillcrush Break Into Tech Student
"Learning to code helped me accept being a beginner at something and embrace a lifetime of learning, instead of expecting to know everything and be perfect all the time." —Stacey Baldini, Skillcrush Product Designer
I fell in love with the possibility of being free. For the first time in my life I feel like coding will give me the chance to make my own decisions and take my own risks. —Flavia Medici, Break Into Tech student
"Having the power to make a computer do something felt amazing. Now, I was only changing the font color for my Geocities site… but it still felt really cool!" —Blair Mishleau, Skillcrush Curriculum Writer
"I have fallen in love with the 'future-proof' quality of knowing how to code. I'm starting a second career at 45+ and I've never been more excited to work and grow and learn and develop (pun intended!)" —Sonja Parsell, Skillcrush Break Into Tech and UX Design Student
"I taught myself to code as a Gilmore Girls-obsessed pre-teen who wanted to make a Rory/Jess fansite. A friend I met online taught me the basics (IFrames! Tables! Ooh my!) and that was enough to get me started. We would spend hours on AIM, going back and forth about why something was or wasn't working, and then eventually I'd beg to borrow my dad's cell phone because he had free long distance and it was easier to talk on the phone. Collaborating with her was what made me love coding—and we're still close friends all these years later!" —Caro Griffin, Skillcrush Director of Operations
"I love coding because I can build something (anything) with very little upfront cost or effort." —Shannon Crabill, Email and Front End Developer and Skillcrush Alum
"I decided I wanted to learn how to code after working as a designer on a number of projects. I was frustrated that I had to send my designs to someone else to actually become real, instead of being able to bring my designs to life myself. I remember the moment I started loving code was during one of the exercises in the (now old) JavaScript course at Skillcrush where I was supposed to build a model that opened when a button was clicked. It was frustrating and I kept getting it wrong, but I remember finally getting it to work exactly like I planned—and that feeling is what makes me love coding. That same feeling is still there years later, the moment whatever project I am building works for the first time." —Will King, Skillcrush Front-End Developer and Skillcrush Alum
"I fell in love with code because I loved the challenge that it presented and the feeling you get from solving a problem or fixing a bug is addictive! I also love watching my code come to life instantly on screen!" —Amanda Hasenzahl, Web Developer and Skillcrush Alum
"In 2007 when MySpace was a thing, I did a few page designs for my friends. Soon after, I was receiving requests from individuals and artists worldwide to work on more pages. The moment I learnt how to use "position: absolute," I knew what I wanted to do in life. So, I interned at a web agency and later transitioned to working as a full-time developer!" —Kailan Wyatt, Skillcrush Back-End Developer
"I fell in love with code when I saw it was the perfect way to blend both my creative and analytical sides to create a beautiful product." —Jenn Maher, Front End Software Engineer and Skillcrush Alum
"I dabbled in HTML/CSS back in the Geocities days, and had a ton of fun with it. Then life took me in a very different direction, and I made my way back to web development sort of accidentally, when I wanted to edit my own WordPress site several years later. I found that I loved playing with code again and eventually spent all my free time learning more about WordPress as well as dabbling in other platforms/languages. I soon realized that this is all I wanted to spend my working hours doing, so I gradually made it into a full-time career and I couldn't be happier!"—Ann Cascarano, Skillcrush WordPress Instructor and Skillcrush Alum
"…because it does what I tell it to do the first time. 😂" —Latasha Hussey, CEO of Web Agency Lavender Turtle, Skillcrush Teaching Assistant, and Skillcrush Alum
If you're ready to learn how to code, fall in love, and start your own career in tech, be sure to take advantage of our Valentine's Day Flash sale! We're giving you 15% off all courses, but this deal is only good through midnight on February 14, 2020, so be sure to act fast!
Lori is a stop motion video creator who made the switch to the digital world several years ago and loves helping others do the same. Lori is a former sign language interpreter with a passion for storytelling. She spends her spare time dreaming up her next travel adventure, and singing any chance she gets (good thing her neighbors don't seem to mind!).