"I hate it!" That was my answer when my then-boyfriend asked me how I liked my first day at my first "grown-up", supposedly perfect, this-is-what-you-got-your-MBA-for job as operations manager for a major cargo transportation company.
I'm usually über positive, so I still remember my boyfriend's shocked silence and the deep sadness I felt realizing that I had spent the first two and a half decades of my life preparing for something that I had zero passion for and that just didn't feel like "me".
Despite the drama of that first after-work encounter, I stayed at the job for two years, learned a lot, and went on to establish a cargo logistics company with a few partners. But, despite plenty of success with both the company and my role there as customer service manager, I still kept finding myself wondering what in the world I was doing with my career.
After too many mornings dreading going to work, I decided that I had to make a change before it was too late. So, I started freelancing as a corporate language trainer and translator for international companies here in Finland. I was lucky to quickly find lots of terrific clients who kept me more than busy year after year. The work was easy; the pay was great; I set my own hours; and I could choose what I worked on and how. Ahhh…
Happy ending?? I wish!
That cheesy line from the Chorus Line song saying "That ain't it, kid. That ain't it," just kept playing in my head. But I didn't even dare talk about my career doubts with anyone. I mean, how ungrateful and plain ol' stupid could I be? To everyone else's eyes, I had it made.
But I couldn't deny it. It just kept eating away at me—I still wasn't happy in my career. And when I did finally open up about it, nobody had that easy solution I was hoping for. I almost started to believe that there was just no such thing as work that I could truly love.
And then it happened! Not overnight—sorry, it's not THAT easy—but slowly and surely. I started to think about what I loved doing, what I could lose myself in for hours… OK, I'm a CRAZY fan of Catalan country line dancing and practice it every day, but I was clever enough to know that it's best—for me and for the world! (Haha)—if I just keep that as my hobby.
What I did find was my passion for tech.
I fell in love with computers as a kid when my dad brought home a Radio Shack TRS-80, and my fascination with them has never stopped. I was always the one in the office who knew all the keyboard shortcuts and the one at family gatherings volunteering to clean viruses off my relatives' PCs.
And, more recently, I was having a blast staying up all night tweaking the CSS for my freelancing website and making HTML newsletters for our dance group. Hmm… Interesting…
"Yay! I know I love tech," I thought. "NOW what?!? Number 1: I don't have any formal education in tech. Number 2: I don't know how or what I should learn. Number 3: I'm too old to learn tech!"
I admit I was pretty intimidated by these thoughts. But I was even more intimidated by the thought of even one more day of settling for less than doing something I truly loved.
So, despite being 43 years old (gasp!) and not at all sure where I was going, I took that scary but crucial first step forward and signed up for my first coding class (which just happened to be with Skillcrush. #destiny).
I'll never forget the bouncy background music in that first video lesson and the smile that spread across my face when Adda said, "So, you want to learn HTML. That's great!" THIS was "me"! I had finally found MY thing…
I felt like I had suddenly gained superpowers! I could instantly change the font or background or text of a webpage with just a tiny bit of code. I could add headers and footers and links and images. I was starting to understand how all the websites I relied on and enjoyed so much worked. And I even built my very own site completely from scratch and launched it on the Web for the world to see. Talk about excitement! Talk about POWER!
I was one happy cowgirl coder, so I just kept going—learning as much as I could about design, development, and tech in general. (Don't even ask about my tech podcast addiction!)
And, before I knew it, I was offered a chance to combine my business education, customer service experience, writing talents, and new tech skills working for Skillcrush itself. Now THAT's a happy ending! Or, as I like to say, a happy beginning to a real-life fairytale of a career.
Dim the lights. Applause. Bravo, bravo. Blah, blah, blah.
Just kidding! But, as therapeutic as it is to share my story, it's not the reason I jumped at the chance to write this post. I wanted to tell my story because…
My story is YOUR story.
Whether you're 25, 55, or even 75, if you think you're too old to learn to code, this is for YOU! In fact, to quote the inventor of the World Wide Web himself, Tim Berners-Lee, "This is for everyone." (Hint: If that quote chokes you up like it does me, you were born for tech!)
I KNOW that being in a room of 17-year-old coding pros can be intimidating. But you've come too far in life to let that stop you. So, here's some practical advice you can start using TODAY if you think it's too late for you (even though it's not… ::cough:: It never is…)
Top tips for learning to code at ANY age
Don't be afraid to fail…and fail again.

Paradoxically, when it comes to code, one of the best indicators of success in code is being okay with failing. You WILL fall down. And that's OK. The key is being able to get up, dust off your knees, and try again. And besides, making mistakes is only human, and it's bound to happen when you're doing something new. So, prepare yourself mentally by remembering that every great coder has probably made the same mistake (or had the same "stupid" question). And also remember that learning from your mistakes is incredibly effective in coding—as it is in life in general!

Focus on one skill at a time.

You've probably already noticed that there's a LOT to learn out there – languages, frameworks, the latest tools and trends! It can be overwhelming even for a pro. But you'll get farther faster by choosing one thing (like HTML, CSS, JavaScript, Ruby, or WordPress) and getting the fundamentals of it down before going on to the next topic.

Take a class!

Why re-invent the wheel when you can join a course that will take you step by step through what you need to learn as well as give you support from other learners and help from instructors? You'll get all that – and much more! – from our Skillcrush Blueprints so be sure to check them out to get everything you need to get started in tech!

Schedule time to learn.

Even when you're in a class, you need to make sure you actually make the time to do the work of learning. You're much more likely to do that when you set aside time in your calendar for it. It can be just 5 minutes to review code syntax while you drink your morning coffee, 20 minutes during your lunch break to put together a color palette for a web design, or an hour on the weekend to de-bug your Ruby app. Just be sure to set a time for it and to stick to that coding date with yourself!

Look up to the kids.

There's no denying that tech is a young industry, so you're sure to meet lots of people younger than you in this new world. But don't let their lack of years keep you from learning from them. In other words, forget the traditional idea of an older teacher and look at their experience and talent instead of their birth year. Just like your age shouldn't matter, neither should theirs.

Join a local coding community.

A great place to meet those mentors and fellow tech newbies besides classes is in-person meet-ups or tech groups. They LOVE enthusiastic beginners like you, and you'll love all the support, tips, and information (plus awesome networking contacts!) you'll get.

Start earning with your skills right away.

Not only is it exciting to put your new skills into practice, but it can also profitable. That's right! You can start earning money doing all kinds of small tasks and projects while you're learning. And it'll be a huge boost to your confidence and your portfolio too!

Work on "real" projects for your portfolio from the start.

Speaking of your portfolio, you should start filling yours up as soon as you start studying, whether that's with challenges from your Skillcrush Blueprint or actual paying projects (See #3). Solving problems and building actual sites or apps will really solidify your understanding of the concepts you're learning, and, at the same time, you'll be creating a collection of your fabulous work to prove your skills to future employers or clients.

But even with easy, doable steps like these, I know you probably still have plenty of doubts, fears, and questions. I did too… That's why I came up with the free "ARE YOU READY TO LEARN TO CODE?" quiz for a fun and fast way to know that it's time for you to get started in tech TODAY!
Get the skills you need for your own success story by joining us for a Skillcrush Career Blueprint. Our next session starts soon so don't waste another day doing something you don't love!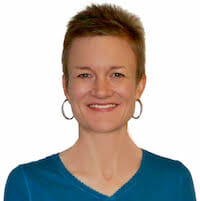 Kelli Smith
Kelli is our Operations Manager here at Skillcrush. Plus, she's an early alum of Skillcrush 101 who made her career change into tech in her mid-40's! Kelli started with us as our Customer Support Manager and has also taken advanced web development classes and been an organizer in the Helsinki Rails Girls chapter.

In addition to helping the Skillcrush team and our wonderful students, Kelli loves podcasts (especially ones about tech, of course!), Corgis, emojis, and, most of all, catalan-style line dancing – as a true Texan living in Finland would!