This Is What It Looks Like to Go From Zero Tech Skills to a Successful Tech Career
These four people didn't get college degrees in computer science, but they made the transition to tech anyways.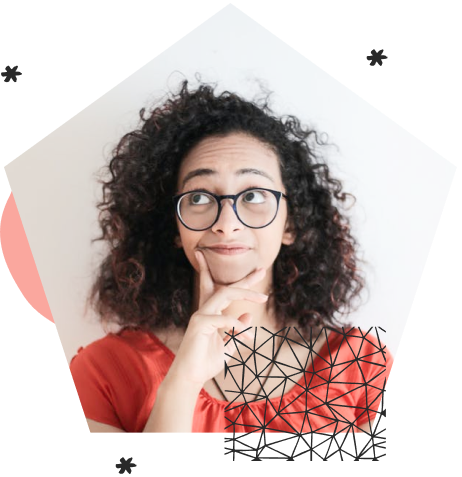 After a year of writing for Skillcrush, one of the biggest misconceptions I've seen in our comments sections, emails to the editor, or even questions during my shifts as part of our all-team customer support is unless you've been hacking since you were twelve and studied computer science in college, there's no way into tech. This myth makes me want to pull my hair out—aside from being patently untrue, it seems designed to keep people out of tech.
And that excludes tons of people from careers with a whole lot of appeal: They're challenging, on the cutting-edge of innovation, high-paying, and with the flexibility to create schedules and work environments that suit your unique needs.
Luckily, the idea that a longterm tech pedigree is the ticket into the tech world is a total myth. The tech industry employs all kinds of people—even people who started off with zero tech skills and never envisioned themselves working in tech in the first place. There are plenty of ways in that use your existing skill set, and you can learn and level up as you go.
Since the idea of going from zero tech skills to employed in tech might sound far-fetched, I talked with four tech professionals who did just that, proving that there are as many paths for getting into the industry as there are people willing to put in the effort. Even more encouraging: While it took a few years for these pros to grow into their roles, it took each of them only a year or less to get those roles once they got serious about tech. Read on to find out how they did it.
Write Your Way Into Tech
For Blair McKee, Digital Marketing Manager at DNS Made Easy, her entry point into tech had nothing to do with tech skills—she got her foot in the door as a copywriter. "I'm in Northern Virginia. . . a huge Internet hub," McKee says, "and tech companies are dying for writers that can articulate abstract and complex tech concepts."
Having those skills, McKee found herself working as a copywriter for a high tech startup—though without any actual tech know-how. McKee started at the company writing press releases and marketing copy, then eventually moved into technical articles and tutorials. As her job duties shifted, she was introduced to more and more tech concepts and began to get a better overall understanding of how the internet works. The more she learned, the more her interest grew in web design and front-end development. She ultimately decided to refocus her career on the tech-specific aspects of her work.
McKee taught herself to code by building basic websites from scratch, then delved deeper into CSS3 and Sass (two coding languages used for styling web pages) through online code camps like Free Code Camp and Code Academy. "I also read a LOT of industry news," McKee says, "from technical SEO (search engine optimization) blogs to how to grow SaaS (Software as a Service) startups."
After roughly a year of studying in her free time, experimenting, failing, researching, and trying again, McKee started to feel confident enough to assert herself as a web designer, and she didn't look back. She's since taken those skills and used them to build a career as a digital marketer, SEO expert, web designer, and UI/UX (user interface/user experience) designer.
A Little Social Media Know-How Goes a Long Way
Sarah Zurell, Chief Brand Officer at Pavemint, started her career in Los Angeles, working in the entertainment industry where she was a stand-in for Zooey Deschanel on the set of New Girl. But Zurell felt like something was missing—her career as an actress wasn't fulfilling her in the way she thought it would, so Zurell reached out to her contacts in the acting world and landed a job working for a marketing company.
"Initially, they hired me to help them on a social media campaign for the CW TV show Breaking Pointe," Zurell says. "I was ghostwriting tweets targeted toward ballet dancers and ballet fans, but I wasn't a writer and had no writing background. I didn't even have a Twitter account when they hired me in 2012!" Still, Zurell decided to fake it till she made it, even hiring a tutor to help her brush up on her grammar skills, and "in the end the campaign was a smashing success," Zurell says. "As a result of the online following I helped build, the show was picked up for a second season." Zurell continued with her digital branding career, until she eventually started doing work for tech companies—despite her lack of a tech background. It was at this point that she realized she'd found her platform for making a meaningful mark on the world.
Today, Zurell is the Chief Brand Officer at Pavemint, a startup tech company developing an app that connects people in Los Angeles looking for parking with people who have private spaces to share. While Zurell's job at Pavemint is related to brand management, she says that working at a tech startup has given her the opportunity to touch nearly every aspect of the app development process. "Lacking a traditional tech background, this has been one of the most rewarding and—at times frustrating—experiences of my life," Zurell says. "It takes continuous learning in order to grow and succeed. [But] for anyone who isn't sure if they should jump into the tech world because of their background, my advice is to go for it. Reach out, find a mentor, pick their brain. We're all still learning."
That Fine Arts Background Might Finally Pay Off
Brooke Harris, Senior Product Manager at The Penny Hoarder, graduated with a Bachelor of Fine Arts in photography—which she says led her "precisely nowhere career-wise." Harris ended up trying a brief, two-year career as a junior account executive for an advertising firm, but she says it never felt like a good fit. "I spent the next four years bouncing around from one admin job to the next," Harris says, and—although these jobs didn't lead her directly to the career of her dreams—they did start exposing her to a variety of software applications (including database programs) that she'd previously been unfamiliar with.
In 1996, Harris noticed a sudden spike in listings for network administrator jobs, so she enrolled in a local technical vocational school that offered full courses for Novell network certifications. After a few months Harris earned her first network administrator credential, and she used it to get her foot in the door at one of the many companies in her area looking for entry-level help desk and network admin support. Harris committed the next few years to working help desk and network support jobs, where she helped users with software programs, network connections, and email issues. During one of those years she also invested some time in learning SQL (a database programming language), and it paid off big time—in the middle of an economic downturn when jobs were starting to dry up, she was recruited to be a web team project manager and jumped at the chance.
This opportunity turned into a 17-year-career as an IT project manager, working closely with all types of technical teams including UX designers, SQL engineers, web developers and quality assurance analysts. Despite not starting off with a tech career as her goal, and learning most of her skills in the moment and on the job, Harris says she feels like she's trained for this role her whole life. "It's the perfect blend for me," Harris says. "I [get to] use…leadership skills to help drive us forward, [combined with] my 'design eye' from my college degree and all the technical skills I've honed along the way."
Don't Be Afraid to Build From the Ground Up
Matt Hubbard, Director of Operations at FullContact, was a law school graduate working in foreign policy and international relations for the early part of his career. He found himself getting frustrated working with an outdated tech infrastructure and co-workers who weren't inclined toward technological solutions to problems. "I couldn't code or perform data analysis," Hubbard says, "[but] I was more tech-savvy than [a lot] of my colleagues. Over time, I knew I'd get more career fulfillment by surrounding myself with like-minded people, [so]—rather than spending my career fighting with outdated, hard-to-use software—I decided to switch careers and help build good software."
Hubbard started taking classes in Information Systems, during which he got an opportunity to work for the tech startup FullContact. Hubbard started off doing unpaid work for experience and then eventually joined the company full-time as a Customer Experience Manager. Going from zero tech experience to full-time tech employment wasn't all smooth sailing: "To be honest, it took several years before I felt comfortable following a technical discussion between engineers," Hubbard says. In order to catch up along the way, he used online tools like Coursera and Code Academy to pick up different skills, but he says he got the most value from spending time with technical colleagues and reading bloggers like Tomasz Tunguz and Mark Suster to pick up startup business concepts.
Today, as Director of Operations, Hubbard is responsible for process improvements and engineering across his company—a career trajectory he built steadily from the ground up. "I…like the progressive mindset, flexibility, and entrepreneurial nature of the tech sector." Hubbard says. "Fast-growing tech companies like Google, Facebook, and Amazon [have driven so much] change in the world compared to traditional institutions, [and I have] an opportunity at FullContact to become part of that change.
Scott Morris is Skillcrush's staff writer and content producer. Like all the members of Skillcrush's team, he works remotely (in his case from Napa, CA). He believes that content that's worth reading (and that your audience can find!) creates brands that people follow. He's experienced writing on topics including jobs and technology, digital marketing, career pivots, gender equity, parenting, and popular culture. Before starting his career as a writer and content marketer, he spent 10 years as a full-time parent to his daughters Veronica and Athena.