5 Tech Careers That Don't Need a College Degree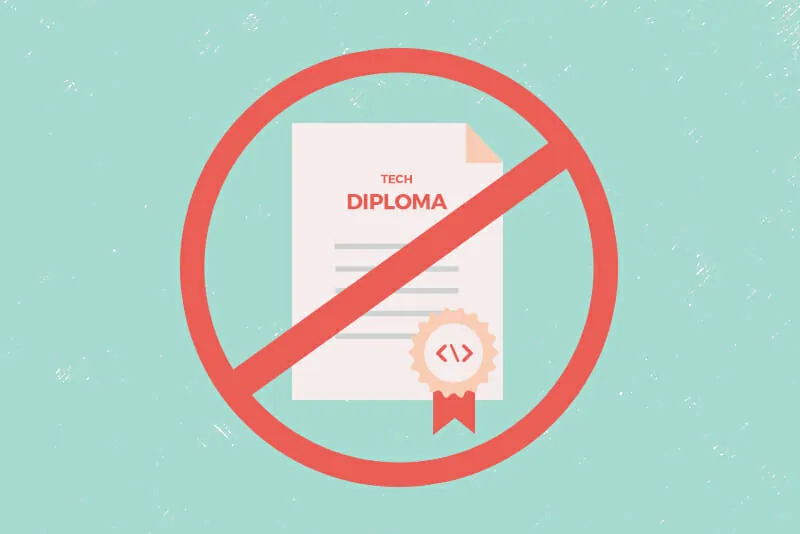 The benefits of a tech career sound appealing—remote work options, flexible scheduling, and high-paying positions—but the perceived barrier of a computer science degree might make the whole thing feel like a fantasy. While some tech jobs and employers will insist on educational requirements, there are actually plenty of tech options open to people without tech degrees—and even people without a college degree at all. Read on to learn about five solid career occupations that are approachable and achievable without a traditional degree.
Web Developer
Entry-level jobs in web development (using coding languages like HTML, CSS, and JavaScript to build websites) don't require a bachelor's degree in computer science (or any field). They're also one of the most flexible entry points into a tech career. While web designers are typically the people who create the look of a website, developers bring those designs to life through code.
Web development is split into two main categories—front-end and back-end development. Front-end development focuses on creating the visible parts of websites that appear in a user's web browser, while back-end web development deals with the databases and other infrastructure under a website's hood.
It doesn't matter if you have a bachelor's degree, an associate's degree, a high school diploma, or none of the above, what's critical to web development is the ability to build websites—and that's what makes web development such a flexible tech career option. Because of the demand for websites in every conceivable kind of business or organization (The Bureau of Labor Statistics projects a 15 percent jump in web developer job growth between now and 2026), you'll have a wide range of employment options. Whether you're best suited for freelance work (a great way to build up a developer portfolio while gaining paid, on-the-job training) or a full-time job with a company, web development gives a lot of wiggle room for finding work that favors skills over education requirements—skills that can be learned in a matter of months as opposed to years.
Web Developer job requirements usually include:
Working knowledge of HTML programming
Experience with additional programming languages like JavaScript
A knowledge of multimedia publishing tools like Flash
A dedication to keeping up to date with new tools and computer languages
Bonus personal qualities:
An ability to concentrate—web developers spend long periods of time writing detailed code, so you need to be comfortable focusing
Creativity—it's helpful if web defsolidvelopers can also add design value to functional web projects
Customer service skills—web developers regularly interact with clients and stakeholders, so a customer service-oriented attitude will help those interactions be smooth and enjoyable for all parties involved
Attention to detail—small coding errors can knock an entire website offline, so being able to notice the little things is essential
Median Web Developer Salary: $67,990/year
Explore current Web Developer listings on Glassdoor
Web Designer
Web Design is another tech career that, like web development, doesn't have set-in-stone education requirements calling for a two or four-year degree, or any other specific credentials. Web design lends itself to freelance work as a way of bridging any experience gap you might have. If you're able to present a potential client or employer with a solid portfolio of design work (even if that work was done as a self-directed passion project) there won't be concerns about whether or not you have a college education.
Web designers are tasked with creating visual mockups of websites which are then made functional by web developers—this includes designing a site's visual themes, color palette, font set, and overall layout. It's important to note that web design is also a natural fit for print or graphic designers looking to move into a tech career.
Web Designer job requirements usually include:
An understanding of graphic design principles
Web literacy—the ability to search for and navigate websites
A feel for User Interface design—knowing what makes certain web design and layout choices appealing to users
Web programming skills—although designers don't do the "heavy lifting" code work, basic HTML and CSS skills will be boost your hireability and expand what you can do design-wise
Experience with illustration tools—Photoshop and Illustrator are the industry standards you should be familiar with
Bonus Personal Qualities:
Project experience—this can include a well-curated portfolio of unpaid projects if you are new to the industry
Good planning—being able to produce content on-time and under pressure is crucial to a successful design career
Clear communication skills—the ability to convey ideas and information to clients and stakeholders is a mainstay of a career in web design
Median Web Designer Salary: $48,787/year
Explore current Web Designer listings on Glassdoor
Computer Support Specialist
Computer Support Specialists are tech professionals who staff help desks and support lines, answering tech questions and troubleshooting computer-related problems for both external customers and internal employees in an organization. While some employers might have education requirements for these positions (e.g. an associate's degree or even a bachelor's degree), computer support specialist jobs aren't limited to college graduates.
Support specialization is another tech job where practical knowledge and skills can trump a four-year degree. If you have solid customer service skills and a working knowledge of computer systems, computer support might be a perfect fit for a degree-less entry into tech. And if you're comfortable with computers in general but new to other tech skills like coding, a support job will immerse you in tech topics, giving you a chance to branch out into other areas and further your career.
Computer Support Specialist job requirements usually include:
Some basic computer classes and/or understanding of computer systems
On-going tech education concurrent with your support job
Certification programs for specific products and systems used by the organization you're hoping to work for (e.g. certifications for specific Microsoft and Apple software suites and hardware platforms)
Bonus Personal Qualities:
Customer service skills—you'll be working regularly with frustrated people who rely on your patient guidance
Listening and problem-solving skills—being able to actively listen and understand the problem a customer is facing (and coming up with quick, efficient, and creative solutions to those problems) is key to successful computer support
Speaking and writing skills—computer support typically happens over the phone or through email or internet chats, so the ability to express yourself verbally and in-writing is critical
Median Computer Support Specialist Salary: $52,810/year
Explore current Computer Support Specialist listings on Glassdoor
SEO Specialist
SEO (Search Engine Optimization) Specialists are people who use research, analysis, software tools, and even some coding skills to improve their clients' website rankings on search engines like Google, Bing, and Yahoo. While SEO Specialists can be employed in-house by a company (who may or may not have their own internal education requirements), SEO work is often done on a consultant basis, making it another tech career where bankable skills carry the day regardless of your degree status.
Many of the skills needed to specialize in SEO can be learned directly from online tutorials like Google's SEO Starter Guide. With dedicated research into SEO topics, and trial and error with your own test projects, you can put yourself in a good position to start doing freelance gig work for friends, family, or small businesses trying to improve their web visibility. As your experience grows you can then use that on-the-job training to build a larger freelance business or parlay it into a job with a company.
SEO Specialist job requirements usually include:
Ability to perform in-depth keyword research—learning what search terms drive traffic to your organization's website
Ability to study and analyze website traffic—monitoring where visitors to your site come from and using that information to attract more and continued site visits
Understanding of split page (or A/B) testing—testing two different versions of a website or web page to see which one more effective attracts users
Continuous research of latest SEO practices
Experience with WordPress and HTML
Bonus Personal Qualities:
Writing skills—SEO specialists are often tasked with creating web content specific to attracting ideal site visitors
Design eye for photos/graphics—attractive and effective design elements combine with strategic keyword use and relevant content to drive site traffic
Independent research skills
Median SEO Specialist Salary: $42,862/year
Explore current SEO Specialist listings on Glassdoor
Social Media Manager
Sure, you have a strong social media game, but no one pays money for that, right? Wrong. Social media managers are very much a thing—they're people who get paid to create, implement, and oversee social media branding and marketing campaigns. While social media manager job descriptions often list a bachelor's degree in marketing (or a related field) as a way of entering the profession, this isn't a black and white education requirement—those same listings cite social media skills and experience as potential job qualifiers, meaning you can make up for a lack of a degree with cold, hard practical know-how.
In order to build up your social media management chops, consider taking on a personal passion project—start nurturing your own brand on social media platforms, then try extending what you've learned to a local business or brand willing to give you a chance to showcase your demonstrable skills. Every freelance social media project you can add to your resume and portfolio will increase your marketability, until it really doesn't matter whether you attended a four-year college or not—your skills and expertise will be all the credentials you need. Since social media management skills are primarily developed through trial and error and practical use, they're also a great skill set to piggy back on as you learn SEO skills, web development, and/or web design. Mixing and matching these skills will give you a full range of tech services to offer potential clients as you build up your degree-replacing portfolio.
Social Media Manager job requirements usually include:
Exceptional multi-tasking skills—Social Media Managers need to effectively juggle multiple social media accounts across a number of platforms
The ability to distill complicated social media concepts into conversational explanations for the benefit of clients
Strong problem-solving skills
Knowledge of the advertising platforms used by major social media companies like Facebook.
Bonus Personal Qualities:
Passion for participating in social media—the more comfortable you are with the medium, the more successful you'll be at turning into a powerful marketing tool
Experience with online communication—knowing how to interject the nuance and personality that is sometime missing from text is critical for effective social media campaigns
Willingness to keep researching social media trends and staying current with mobile technology
Being detail oriented—typos, misused words, and off-brand messaging can spell doom for social media marketing
Median Social Media Manager Salary: $48,773/year
Explore current Social Media Manager listings on Glassdoor
Scott Morris
Scott Morris is Skillcrush's staff writer and content producer. Like all the members of Skillcrush's team, he works remotely (in his case from Napa, CA). He believes that content that's worth reading (and that your audience can find!) creates brands that people follow. He's experienced writing on topics including jobs and technology, digital marketing, career pivots, gender equity, parenting, and popular culture. Before starting his career as a writer and content marketer, he spent 10 years as a full-time parent to his daughters Veronica and Athena.