How to Fake It Till You Make It in Tech
Shut down imposter syndrome.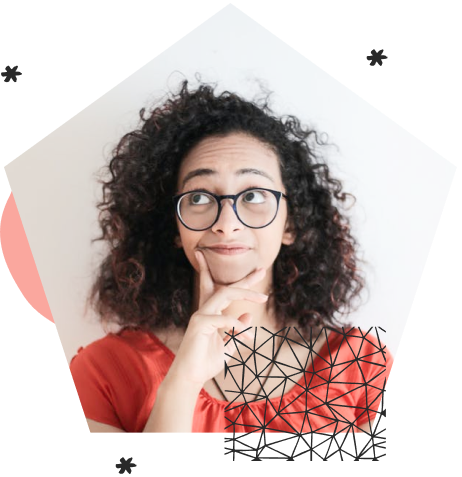 One minute you're chatting confidently with your coworkers—throwing around jargon left and right—and the next, you feel like you've jumped into the deep end of the proverbial pool. Sheer panic. But don't worry: It's okay not to know everything, and—in fact—knowing what you don't know is crucial for success in a tech career. So how can you navigate conversations about new tech or industry changes without sounding like you're totally out of the loop—or pulling our editor's move of hearing unfamiliar terms in meetings and frantically googling them on her phone?
I asked four tech professionals to weigh in on faking it, making it, and how the two relate in a professional setting—and right from the jump, one thing's clear: whether you're a bootstrapping entrepreneur or working your way up the ranks of an established company, everyone has moments at work when they feel like they're totally pulling things out of thin air. But it turns out, faking it can be traded in for making it with just a little bit of outlook adjustment.
Mark Cook, Director of Marketing at ApplinSkinner, says that some of the most skilled tech professionals he knows still suffer from imposter syndrome. Since tech has so many specialized fields, even if you're an expert in one field (or many), it's a given that you'll find yourself out of your depth at some point, he says. A UX designer doesn't necessarily know the same things a front end developer does, and vice versa.
Cook's advice in these situations is to be proactive and treat them as learning experiences. If you find yourself in a meeting or conversation that's straying into unknown territory, be up front about it and move into question mode. "[People are talking to you] for a reason," says Cook. "You're there…because you [do] know about something." No matter how out of place or unprepared you might feel, you're still being asked to participate in that meeting,. interview, or chat. Lean on your own expertise in the conversation.
One way in is to ask about the comparative pros and cons between the new tech being discussed and the tech you're already comfortable with. That way, you can get information about what they're talking about while still contributing your own knowledge. It's also a way to be honest—asking questions instead of pretending to be an expert avoids the risk of coming off as disingenuous, Cook says.
Ask away, and remember that engaging in these conversations is also a career win. You'll always be learning, especially in the tech industry, and the sooner you become comfortable with that, the more successful you'll be.
Lest you think that this feeling only happens to beginners, Ellen Butler, UX Director at Happy Boards, says that sometimes it's career success itself—and the changes that come with it—that brings on those creeping feelings of faking it. At a past job, Butler found herself moving from Account Manager to a member of the UX team overnight. Because of her sudden position change and feelings of insecurity in a new field, Butler says she found client interactions particularly terrifying—it's hard enough to be in a new environment and feeling like an imposter among colleagues, but those feeling are more magnified and intimidating when you're expected to deliver for a customer.
Eventually, Butler says, being open with her team and trusting them allowed her to realize it was okay to tell clients, "Let me check on that and get back to you." Butler credits her co-workers with accommodating her newness to the field, and says they had no problem jumping in to answer questions until she got her bearings. In fact, Butler says it might be better to skip the notion of faking it all together. "Honesty is refreshing," says Butler. "So many of us in the tech world are entering from all kinds of different places: different backgrounds, different career paths, different educations. To assume we all know the same things is frustrating and short-sighted. The only way we'll all learn from our communal knowledge is by being unafraid to ask questions."
If asking questions doesn't feel like the right fit for you, you can try the approach that Jan Bednar, CEO of ShipMonk, takes. He does what you might call a strategic form of winging it. Take, for example, a moment when a client asked about his company's ability to integrate with the client's platform. "I knew that we could integrate with the platform, but I honestly didn't understand the mechanism that allowed [us to do it]." At a loss, Bednar started drawing a diagram on a whiteboard to walk his client through the process, and by the end, Bednar was able to articulate the mystery integration mechanism. The lesson here, says Bednar, is to recognize and accept those moments when you don't know something, and allow the things you do know to help fill in the gaps. Your path to understanding may be half-built, but it's also all you need.
Scott Morris is Skillcrush's staff writer and content producer. Like all the members of Skillcrush's team, he works remotely (in his case from Napa, CA). He believes that content that's worth reading (and that your audience can find!) creates brands that people follow. He's experienced writing on topics including jobs and technology, digital marketing, career pivots, gender equity, parenting, and popular culture. Before starting his career as a writer and content marketer, he spent 10 years as a full-time parent to his daughters Veronica and Athena.