Confessions on Changing Careers: How I Made the Switch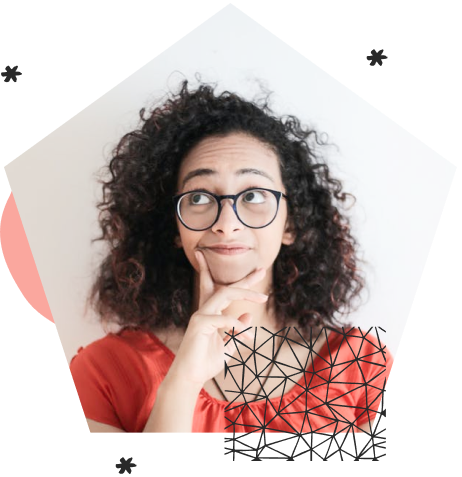 When it comes to changing careers, you may already know what you want: more flexibility, more creative fulfillment, and the knowledge that you won't have to sacrifice job security or a large paycheck. This is exactly how Skillcrush alum Michelle Nguyen was feeling when she decided to completely transform her career by enrolling in Skillcrush courses.
She ended up making the huge leap from optometrist to working as a UX/UI designer for a social media startup. And now, she's hoping to inspire others with her career change confessions.
So if you've been wondering how to make a career change, be sure to take a look!
Confession #1: Changing Careers Can Mean Finding Fulfillment (Yes, Really!)
Michelle is the type of person who thrives on creativity, but many jobs that lend themselves to creativity don't lend themselves to job security. Plus, going into a creative industry was somewhat discouraged in her family, so Michelle found herself working as an optometrist.
She says, "I always considered myself a creative at heart. I actually wanted to be a comic artist when I was younger, but I was really scared of an uncertain future. So I ended up going into healthcare."
After working as an optometrist for a while, Michelle couldn't see herself staying in this role long-term. "The nature of the work wasn't something I liked, and I got serious FOMO when I worked as an optometrist because I had to work weekends and holidays."
These concerns are unfortunately all too common. She wondered, "Do I have to spend the rest of my life at a job I don't like and not be able to spend time with family and friends?" So instead of staying stuck in a position that was taking over her personal life and wasn't even the least bit satisfying, she decided to find a new career path.
How did she figure out how to change careers? What did she do to get started? First she had to figure out which direction she wanted to take her new career path.
Confession #2: A New Career Should Strike the Right Balance
Michelle lives in Silicon Valley, the heart of the tech world. She says, "I was surrounded by people who were being paid well, but had good work-life balance… One year I was really miserable in my job working during the holidays. It's the busiest time of the year, and everyone's having fun, but I'm stuck working in the office. So I literally looked up jobs at Google to see what I could do."
That's right, her new career started by simply googling jobs at Google!
"I looked up on Google their creative department, looked up their job titles, and researched what was available. And that's when I discovered UX/UI design."
UX design, which stands for user experience design, focuses on improving the overall user experience of a website or app. UI design, which stands for user interface design, focuses on improving the specific (you guessed it!) user interface of a website or app. So together, UX/UI design ensures that a website is easy and enjoyable to use and looks appealing.
UX/UI design is a far cry from optometry, and as Michelle puts it, this role turned out to be the "perfect combination" for her.
"I find UX/UI really fascinating because of its unique blend of practicality and creativity. I majored in psychology when I was in undergrad, and I always found the way people think and behave really interesting, and UX design is really just how people behave with technology. I'm also naturally drawn to the creative visual stuff, so the UI part of it was really interesting to me, as well."
When it comes to deciding on what direction to go with a new career, some people are solely focused on earning the most money or making the career change as quickly as possible. But at the end of the day, if you're still not feeling fulfilled in your new role, you'll end up burning out and will find yourself changing careers all over again!
Instead, stay focused on your long term goals and look for a role that's a strong balance of job satisfaction, income, flexibility, and whatever else you're looking for.
How can you be sure you're making the right decision and will actually enjoy the job? Nguyen says, "Part of it was me just going for it and taking the Skillcrush courses to see if I liked it." You can easily find yourself overanalyzing every possibility, but until you start learning the skills you'll need and doing some of the work for yourself, you'll never truly know if the role is right for you.
Confession #3: Getting A Strong Foundation in Tech Skills is Easier Than You Think
Once Michelle knew that she wanted to go after a UX/UI position, she had to get the digital skills to take her there.
Tech was really new to her, so she turned to the Break Into Tech course package to give herself the broadest foundation possible. She says that Break Into Tech "seemed like a really comprehensive curriculum, building up a diverse skillset to help me break into tech." She also took our UX design course, so she could focus specifically on learning UX skills.
In only 8 months, she had created a strong portfolio and was ready to start applying for new jobs.
Confession #4: You're Ready Before You Think You Are
The next step Michelle took in the process of changing careers was job searching. Surprisingly, Michelle did not wait until she fully completed her courses before she started applying. In fact, she finished the UX Design and the Visual Design courses, but ended up landing her new job before finishing the full Break Into Tech course package! It took a total of ten months from the time she started her Skillcrush courses to the time she was hired, and her portfolio consisted of solely Skillcrush projects. That's all she needed!
As Michelle puts it, "Rather than looking at your education, I think companies care more about your portfolio because it's basically a snapshot of what you can do for them."
When Michelle began job searching, she was really hoping to land a remote position, so she focused mainly on remote job boards like Remotive, JustRemote and AngelList. Though finding a remote job is challenging, Michelle says, "I think what made me stand out is I kind of new how to do a little bit of everything because it [the company I was applying to] was a startup, so I knew I was going to wear many hats."
When it came to gaining confidence and fighting off imposter syndrome, the support of other career changers was instrumental. She also mentions, "I think it was just accepting that there was always going to be someone better than me and… focusing on myself and what I can do to become better."
Self doubt is 100% normal, and simply recognizing it for what it is can help you keep moving forward.
Confession #5: No Regrets
One final confession: Now that Michelle has her new career, does she regret making the change?
"Nope, I like UX/UI design much more," she says. "Plus I get to be around my dog all day."
And who wouldn't want that!?
If you're thinking about changing careers and Michelle's story resonated with you, be sure to check out the Break Into Tech course package that Michelle took to make the transition. It can be your ticket to tech, too!
Lori is a stop motion video creator who made the switch to the digital world several years ago and loves helping others do the same. Lori is a former sign language interpreter with a passion for storytelling. She spends her spare time dreaming up her next travel adventure, and singing any chance she gets (good thing her neighbors don't seem to mind!).