Tech Job Interviews 101: 15 Web Designer Interview Questions Explained
Get ready for your next web designer job interview with these sample questions and prep tips.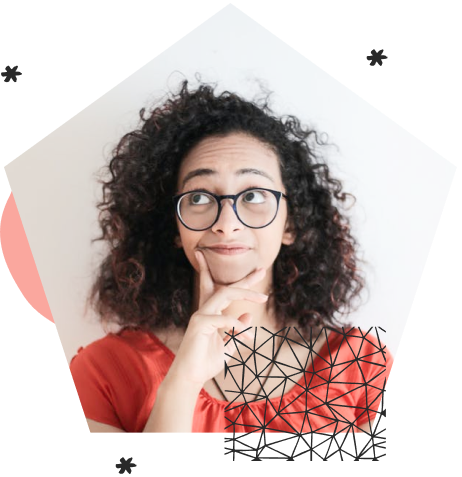 Learning tech skills is great (and something you should absolutely do right away!)…buuut once you learn them, it's time to start applying and interviewing for tech jobs. If you're wondering what to say when you're sitting across from a real life hiring manager, we've got you covered! Tech job interviews are nothing to fear, especially when you've already practiced the most likely questions (and some curveballs as well). That's why we scoured the internet to pull together comprehensive lists of common questions asked during web designer job interviews, AND tips on how you should prepare for and answer them. You've got this!
Looking for more interview tips? Check out our articles on:
And if you need to learn the skills to land your own web developer job, consider our Skillcrush Visual Design Course. This online class is designed to be completed in 3 months by spending just an hour a day on the materials. 
Web Designer Job Interview Questions
1. What's the project you're most proud of?
Tip: Ideally, you'll be able to illustrate this by pulling up your portfolio site*. Regardless, think about a way of explaining how you solved for a particular problem or with goals in mind—this gives the interviewer an idea of how you apply design thinking to every project.
*Pro tip: If you're not sure whether you'll have access to WiFi, bring an iPad or laptop with you to show your work.
2. What's your working style? / What's your team working style?
Tip: Web designers need to be able to work independently but also communicate their thought processes to the team. The best designers can balance both. How do you work best? But also, how do you make sure you're working best with everyone on the team? This is also a good space to explain how you manage your deadlines and priorities to show that you're aware of how important that is when working on multiple projects at once.
3. How do you communicate your designs with web developers? What about to clients?
Tip: Again, web designers spend a lot of time on their computers but the best ones also know how to explain why they do what they do to stakeholders who don't necessarily understand design practices. What do you do when you're working with someone who's less familiar with the role design plays?
4. What do you do when a client just doesn't like your designs?
Tip: This is a big one. Your interviewer wants to know that you're not too sensitive but this is also a good place to share your communication techniques. If a client doesn't like your work, how do you make a case for what you did and why you did it? You should also underscore that at the end of the day, you're open to revision requests and comfortable with adapting.
5. Where do you go for inspiration?
Tip: Good designers keep a constant eye on other designers. Give them a list of your favorite sites or blogs maybe even a few Instagram accounts. And consider some sources that you use that feel a little atypical. Do you head to your modern art museum on weekends? Do you collect vintage design books? These are the ones that will set you apart from the other interviewees in the hiring manager's memory.
6. You're hired by a client to design a new website. What's your first step?
Tip: This answer should center heavily around research. The interviewer wants to hear that you think first before diving in and that you get to know the problems you're tasked with solving rather than just making assumptions.
7. What sites or blogs do you read regularly?
Tip: This is very similar to question #5, but requires that you get even more specific. Talk about some of the top blogs that you know are industry darlings, but you should also come prepared with some more specific answers to show you dig deep when it comes to web design knowledge.
8. How comfortable are you with HTML & CSS?
Tip: More and more designers also have web development skills. So how comfortable are you? (And if the answer is not at all, consider taking a quick class to get started. We even offer a free coding camp that you can complete in just a few days).
9. What's your experience with UX?
Tip: Again, the line between web design, visual design, web development and user experience is increasingly blurring so you should at least feel somewhat comfortable discussing UX. This is a good opportunity to ask whether there is a UX designer on the team that you'd work with. If so, you can talk about the ways you'd implement research findings into your designs. If not, you can talk about the ways you apply UX to your own work. Is there a recent project you can use as an example?
10. What do you think is the most exciting trend / next big thing in web design?
Tip: Another test of your industry knowledge, so make sure you have a great answer.
11. What do you think could be improved with our site?
Tip: Always a tricky question, but try to think about how you'd address this with a new client. You don't have to go too negative but you want to show them you've spent some time exploring their site or product as well. (By the way, you should look at every potential employers' website before an interview!)
12. Describe a project you worked on that didn't go as planned. What could you have done better?
Tip: Things happen, and sometimes projects don't work out. Explain what went wrong, clearly outline what you could have done better, but spend the bulk of your answer explaining how those lessons positively affected future projects. The goal is to end on a positive note about how overall this bad experience positively changed your design process.
13. How open are you to revisions? What do you do when you don't agree with a revision request?
Tip: This question is meant to test where and when you draw the line. You should be willing to revise always (web design is revision, really) but you should also have some idea of when to push back. It's important here, too, to explain to the interviewer how you communicate when you don't agree—what's your approach to make sure you handle the situation delicately especially with clients?
14. Walk me through some of your most recent projects.
Tip: Plan this out in advance. You should have three or four projects to share, preferably of different types. Use each one as a way of illustrating a particular skill set and explain what you learned from each. It's also good to focus on results here if you can—for example "When we redesigned the mobile nav for this site, it improved time on site by mobile users by 10%."
15. When you are working on more than one design at once, how do you structure your day and priorities?
Tip: Again, priorities are everything. How do you make sure you hit all your deadlines? This is also a good place to explain when and where you make time for meetings versus research and play versus deep work.
Scott Morris is Skillcrush's staff writer and content producer. Like all the members of Skillcrush's team, he works remotely (in his case from Napa, CA). He believes that content that's worth reading (and that your audience can find!) creates brands that people follow. He's experienced writing on topics including jobs and technology, digital marketing, career pivots, gender equity, parenting, and popular culture. Before starting his career as a writer and content marketer, he spent 10 years as a full-time parent to his daughters Veronica and Athena.